In lieu of the 4th of July festivities today, my family decided to buck it to the mall in order to take advantage of the ridiculous sales. For example, J.C. Penney was having a 40% off promotion in their Intimates department, and well, I was sadly in need of some new unmentionables.
After the run through J.C. Penney's Intimates department, and with a handful of Macy's coupons just begging to be spent, we trekked off to Macy's, straight to the Juniors' department because my mother enjoys feeling "youthful" and because I'm 17.
Since we had a handful of "Get $10 off of every $30 spent" coupons, we aimed to find bundles of clothes that could fit into the $30 bracket in order to get the best run out of our coupons. I fell in love with a pair of shorts that were baggy enough to go incognito as a skirt. I'm sure there's a technical name for these kinds of shorts/skirts. I refuse to call them "skorts" however, because that would be as insulting as calling a choppy haircut a "mullet". Anywho I'll post pictures of those later.
I usually tend to stray away from the Material Girl line at Macy's because I feel really underwhelmed with the whole line. Every time I look at it I feel like Madonna just regurgitated cheap copies of her own signature looks, and this strangles me with disappointment because I kinda expect more from Madge. I became especially disappointed a few months ago when I was perusing the Material Girl rack at Macy's and I found a pretty, albeit plain, black blazer. The tag listed it at over $40-something, yet when I turned it inside out I found that it wasn't even lined. I feel like for $45 you should get something of reasonable quality, even something that is half-lined, rather than something with all the raw seams out in the open.
Well today I felt as if some of the clothes might have been displaced because I found a dress that was really unlike the rest of the Material Girl line; oh, and not to mention it was very well constructed. It was an adorable mustard yellow colored sweetheart neckline dress.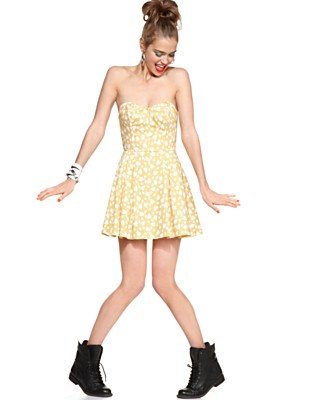 Image via Google
See, and its got a little white something pattern scattered all over it. It was adorable! However my father was convinced it was too short on me (although it did not look as short as on the model above) even though it was merely a few inches above my knee. I have skirts way shorter than this and they do not seem to complain. Sigh.
So I did not end up buying the dress.
I also tried on a pair of "skorts" that were similar to the ones I bought (above), except they were not as breezy; they were black, with white polka dots, and a plethora of little pleats all around, and they were much more fitted around my waist. However they kind of flared out awkwardly around my butt, since the fabric was so much thicker, and I decided not to get them.
In a desperate attempt to find $30 worth of clothing that I liked and that fit me, I bought a cute tee with some sort of rock-and-roll-motorcycle-route66 theme that had the words "Born Free" written across the top. I shall give this to my friend for her birthday. I feel accomplished.