Now that I've showed you last year's costume, it's time to think, what's this year's costume going to be? Hopefully, since Halloween lands on a Monday this year, the school board will let us wear our costumes to school as we have done in the past.
I've already brainstormed a few ideas, which I'll share:
Option 1a: Marie Antoinette
Pattern: Simplicity 4092, View A
http://www.simplicity.com/p-2098-costumes.aspx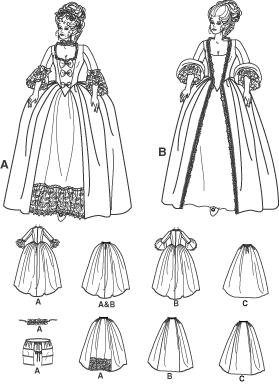 Image via PatternReview
An option I've been lusting over for a while, and now that I have a sewing machine I think that I can actaully do this. However, I would never make a half-assed historical costume, i.e. one that zippered shut, or worn without the proper undergarments. So, I'd also use this Simplicity pattern for the stays and chemise: Simplicity 3635;
http://www.simplicity.com/p-1953-costumes.aspx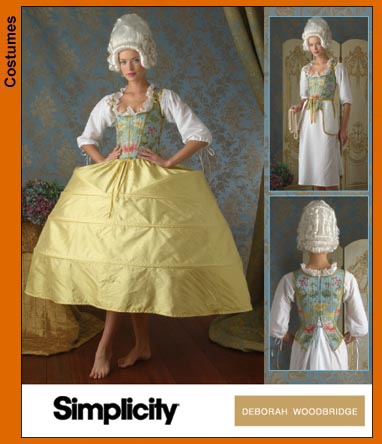 Image via PatternReview
But there I was thinking, why would I put so much time, effort, and money on a gown that zippered closed, when I didn't even know how to replace zippers with lacing? And then I figured, this project would just occupy WAY too much time and money, two things that seem to escape me easily. I did a few mental calculations, and realized that this project would require obscene amounts of money that I just did not have. For me to be properly satisfied with this costume, I'd have to make a chemise, stays, pocket hoops, at least a petticoat, and the gown itself. Last year, when I dressed my hair up as Marie Antoinette, NO ONE KNEW WHO I WAS except my painting teacher. Le sigh.
Plus, when I began reading some pattern reviews, I learned that these patterns weren't easy, and required a lot of modifications and fitting. As an incoming high school senior I can't devote too much time to a sewing project since I'm in the process of applying for colleges.
Option 1b: Marie Antoinette in the dress that sparked the Revolution, or a Chemise a la Reine.
Image via Google
From what I have researched, these dresses are very simple, fun, and easy to construct; they're basically a gathered rectangle with sleeves. And according to The Dreamstress, a Chemise a la Reine wasn't necessarily always worn with stays. You can read more in her post:
http://thedreamstress.com/2010/06/what-do-you-wear-under-a-chemise-a-la-reine/
If I were to make a Chemise a la Reine, I'd only make two gathers on the sleeves though -- I feel like three gathers are a bit overwhelming. And perhaps a hat to match the ensemble?
Image via Google
The more I think about it, the more I feel that a Chemise a la Reine would be a good starting point for an 18th century costume. Yet, I know that if I wear this to school, very few people will recognize me. But whatever, that just gives me an excuse to explain the French Revolution to them....
Option 2: Rowena Ravenclaw
This will be a very un-historically accurate costume. Mostly for the fact that basically my idea is for a Renaissance style ensemble, however since Hogwarts was founded "over a thousand years ago," Rowena and Helena are most likely from the 10th and 11th century--the Middle Ages.
This costume will be more of a mesh of patterns and ideas. Of COURSE, you all know who Rowena Ravenclaw is, right? RIGHT? Anyway, I was thinking of making this out of a dark blue damask, or similar printed dark blue fabric, with a slightly grey- or silver-toned underdress. Perhaps I should explain further? I will.
I already have this pattern at home, and I feel that I can modify it for this costume.
http://butterick.mccall.com/b6196-products-2202.php?page_id=916
Image via PatternReview
Image via PatternReview
For the underdress, a sort of chemise, if you will, I would make blouse B, but elongate it A LOT, up to my ankles. For the overdress, I'd make the vest, and then make a long skirt, about as long as the underdress; I'd pleat it, then tack it to the inside of the vest, which sounds rather tricky and finicky but in my mind it seems like it would totally work. Which means it probably wouldn't.
And of course, somehow I'd make a diadem or tiara of sorts out of wire and whatnots around the house. But this costume definitely requires a lot more...trickery, and messing around. Although I don't doubt my abilities whatsoever. I also feel that no one would recognize me; they'd probably just say, "Are you a medieval queen?" and I'd have to control myself from strangling them. But then again,I doubt people would recognize Marie Antoinette either.
Option 3: Alice in Wonderland
Or, I could just do this the easy way and wear a costume I already made: my
Tim Burton inspired Alice in Wonderland costume.
Dear readers, what do you think?