While going through my fabric bins recently, I found an unfinished project that I had started 10 years ago!
*Note that in the photos here, my dress is lacking buttons along the placket - I'm waiting on a covered button kit to arrive so that I can make some matching fabric buttons.
Materials
This was one of my first sewing projects, and it shows... The fabric is fairly lightweight poly cotton blend in purple. Nice color, but a bit thin for a dress -- I'll have to wear a slip underneath. Realizing the sheerness of the fabric was one of the reasons why I chucked this dress into the "ignore" bin!
The side seams are bound with bias tape made from a (way too thick!) vintage brown floral print cotton. This dress was made with good intentions, and unsuitable materials 😅
Pattern Review
For this dress, I made View D of McCalls 6503. The cover art of this pattern isn't inspiring, but the line art is great. This pattern has configurable options for a cute shirtdress with a vintage vibe. This pattern includes two skirt variations (pleated and gathered), two bodice variations (front button placket and wrap front w/ self faced collar), and fastens with a side zipper.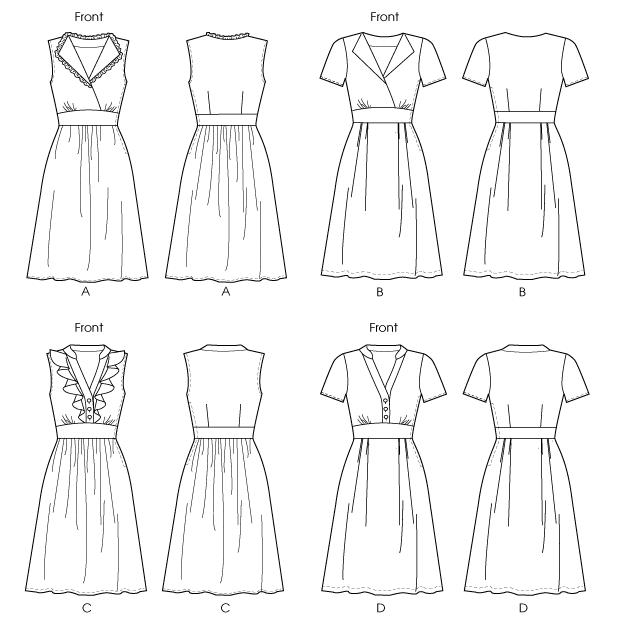 This is one of the few patterns where I don't need to remove several inches in length from the hem (although in a future iteration I may try shortening the bodice a bit above the bust gathers).
Pattern Adjustments
I found the bust gathers sat way too low for my body shape - they created an unflattering "pooching" of fabric below my small bust. To resolve this, I changed the bust gathers to a few rows of honeycomb smocking. I think this adds a unique touch to an otherwise forgettable dress!
Final Thoughts
I think I will make this pattern again, especially View D - I have a navy blue cotton sateen in my stash that seems suitable.
I think this pattern has a lot of options for a classic/vintage-y design. The pleated skirt in particular is really flattering on my proportions and I've already used the skirt pattern pieces to make a few other garments.
You can see more details about this dress in the video below!